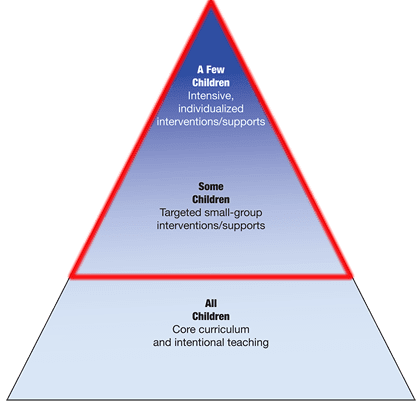 Academic: Targeted Interventions and Supports
Embedded interventions can be used to complement and extend learning by offering children additional opportunities to practice specific skills throughout the curriculum and throughout the day. Teachers intentionally plan and embed learning activities within various teaching contexts such as whole group-activities, center time, and daily classroom routines. Although embedded learning activities are available for all children in the classroom to use, teachers plan them specifically for children who need additional instructional supports. Examples include adding signs and labels in the classroom or adding a picture-naming game to an interest center. (To learn more about embedded interventions, go to Module 1).
Visit the R&R website for more information on embedded interventions.
A teacher uses an embedded learning activity during center time with a small group of children to help them learn to identify letters (running time: 0 min. 52 sec.).
View Transcript
Teacher:
Chika chika boom boom. Will there be enough room? Look who's coming, L.
Child:
I don't have that. Oh yes I do.
Teacher:
M.
Child:
M. (laughs)
Teacher:
N.
Child:
N. That you Carlos.
Teacher:
O.
Child:
I got I got, this is not, this is a U.
Teacher:
P.
Child:
Oh. There's a whole lot of room.