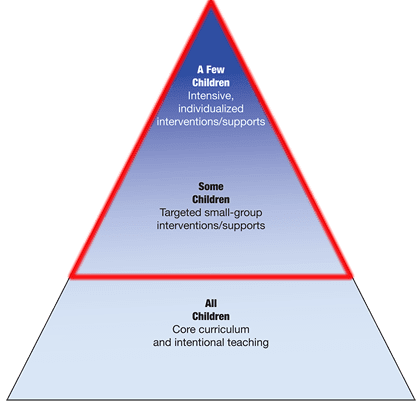 Social Emotional Development: Foundational Practices
Building positive relationships
Trusting, responsive relationships with children and their families, and other adults in the classroom are foundational to tiered instruction focused on social-emotional development. Positive relationships with children foster their cooperation, motivation, and school readiness skills. Positive relationships with families promote strong home-school partnerships and support children's development at home and at school. Collaboration between adults in the classroom promotes a positive climate.
This video clip is of a child with disabilities and describes how the adults in his life build positive relationships with him and each other (running time: 1 min. 55 sec.).
View Transcript
Early Intervention Service Coordinator:
We're all part of communities and I think children with special health needs are individuals and growing up in their community and being a part of their community. Christopher is Christopher and the kids know I miss Christopher. He's not the kid, the wheelchair kid, he's Christopher.
Preschool Special Education Coordinator:
To have a child who's medically fragile with orthopedic and health needs that we can provide and include those children in the system to me is just really satisfying. And not only that we're doing an adequate job, but I think I seem him as thriving I see him as doing exceptionally well.
Head Start Teacher:
Now it's all, he's just one of the other kids to me now it's really not about different. And the kids are a big help with me too. And when we're doing his therapy what is supposed to be therapy for him the other kids come and do it with him too so he don't even know he's being. Because when the therapists come in he kind of gets mad and doesn't want to do what they want to do with him and then when they leave he'll open right up and do it with me but it's just because he knows he's got to do it when they come, he knows it's going to be something they want him to do. And then later on in the day he'll do it with me he doesn't even realize it was therapy it was just fun because the other kids were doing it too.